No Man's Land - Kika Sprangers & Pynarello
"Here you can listen to this live album! To me it is a special work, created in a quiet, pandemic world, with the focus theme: the position of women in the present time. 
A part of the program was written on behalf of Grachtenfestival 2019 and a year later I had the honor to complement the program with new works as part of the New Makers trajectory of TivoliVredenburg.
Writing for this ensemble is fantastic. The way they bring my music to life on their instruments, as a collective. How we searched together for the improvisational character of the music. The extreme dynamic possibilities of the strings. The surrender of all players in a concert setting, and the moving rhythm section who lifts me up as a soloist. This, and much more, inspires me immensely.
In this program I have tried to capture reconciliation and vulnerability, the most important elements in the gender discussion, if you ask me. The music is about connection and emotion. Character should be first in the ranking, gender comes later. Or perhaps it should not really matter at all?"
Kika Sprangers,
June 2021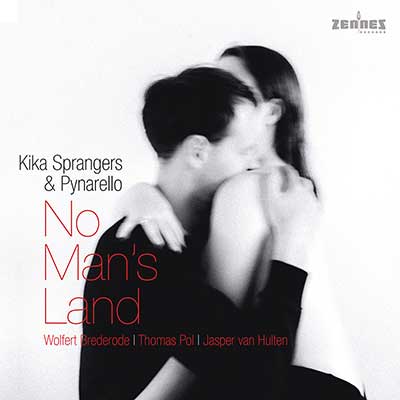 Kika Sprangers & Pynarello – No Man's Land
Webshop ZenneZ Records
Modern jazz compositions by saxophonist Kika Sprangers intertwine with the velvet strings of Pynarello and an 'allstar' rhythm section with Wolfert Brederode (p), Thomas Pol (b) and Jasper van Hulten (d). The album has been recorded live during a performance at the prestigious TivoliVredenburg hall.
€ 18.00
Press:
– "Enchantingly beautiful" NRC ★★★★★