Trio Kika Sprangers, Martin Fondse, Jörg Brinkmann
Januari 2020 namen Kika Sprangers (saxofoons), Martin Fondse (piano & keys, vibrandoneon) en Jörg Brinkmann (cello, electronics) veertien instrumentale stukken op in Splendor Amsterdam, samen met producer/engineer Chris Weeda (vooral bekend van zijn werk met Toots Thielemans).
"Lumen" is hun blauwdruk voor het zoeken naar nieuwe wegen in moderne muziek; een album rijk aan  thema's.
Deze opmerkelijke combinatie van drie componisten en performers – met wortels in de Europese jazz en kamermuziek – bewandelt vele muzikale wegen. Het resultaat is een kleurrijke samenwerking vol lyrische en melancholische melodieën met een minimalistische en filmische sfeer.
Bezetting
Kika Sprangers – saxophones
Martin Fondse – piano and keys
Jörg Brinkmann – cello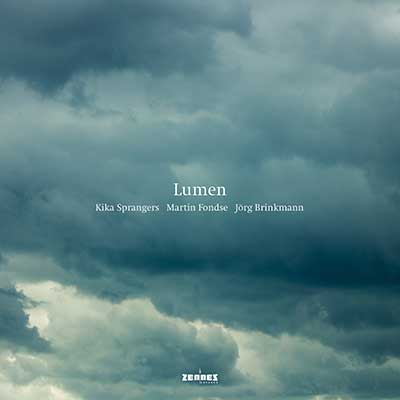 Sprangers-Fondse-Brinkmann – Lumen (download WAV)
Webshop ZenneZ Records
Lumen contains 14 pieces by Kika Sprangers (saxophones, Martin Fondse (piano and keyboards) and Jörg Brinkmann (cello & effects). A remarkable combination of three composers and performers that travels many musical roads. Lyrical and melancholic melodies as well as improvisation are the result. Meditative and cinematic atmospheres.
€ 11.00